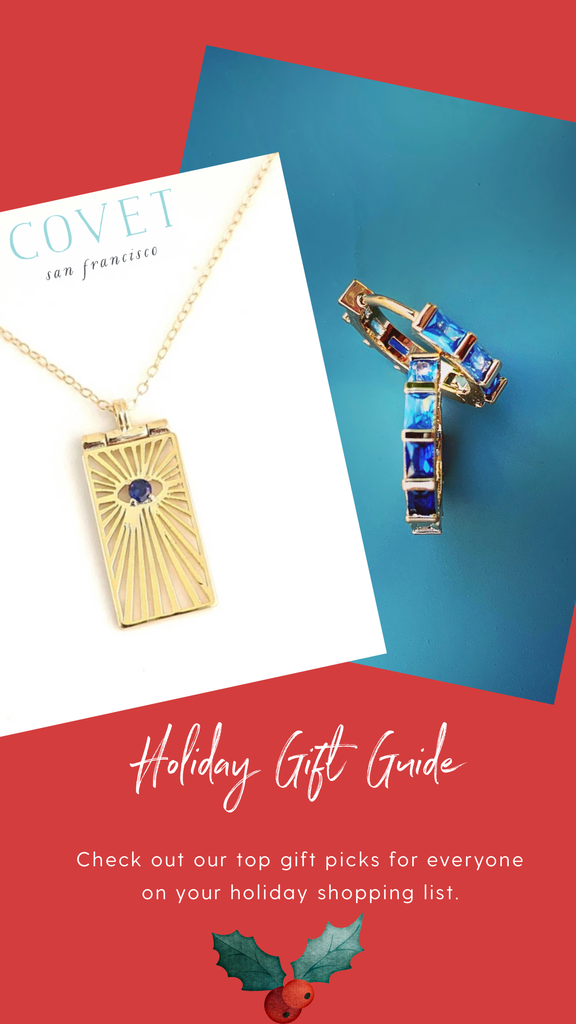 It's been an interesting year to say the least.  We might not be able to do all of the things that normally get us in the holiday spirit, but we can still treat ourselves & give our loved ones with thoughtful, personal gifts.  If you're like me, you might already be listening to Christmas music, and breaking out festive goodies like eggnog and gingerbread :)  So settle in with your favorite treats and check out our gift list for this year. It's filled with perfect things for everyone on your list...so lets get started!    
Our gold and silver featherweight hoops are easy, effortless, and amazing.  They feel like you're not even wearing any earrings at all. Not sure what to get that special someone? These are perfect for anyone on your list. 
2. Jennifer Clifford Art Print
These awesome collage style prints are the perfect pop of color for anywhere in your home or someone else's home. We sell them on woodblocks in the store, but for easy shipping we're now offering this framed versions of one of our best selling prints. It looks great on a portrait wall, sit it on a shelf, or just a lovely accent for any nook. 
These are some of my favorites. Sleek, simple, timeless, and they make a perfect gift. Lightweight with just the perfect amount of textural sparkle. 
This gorgeous necklace is one of our most popular styles. It features a lovely faceted sapphire colored crystal and a unique sunburst pattern. I love this necklace because it looks great layered or on it's own. 
For anyone who loves to cook, it doesn't get much cuter than this apron. The fabric is designed from our artist friends, SF Victorian home drawings. It's machine washable and has handy front pockets.     
This onesie is our favorite gift for the littles. With a signature screen printed victorian house pattern, it can even me part of the perfect "mommy and me" gift when paired with our adult victorian sweatshirt or hoodie. 
Just in time for the holidays, we are introducing our subscription boxes through Patreon. You can choose from 4, 6, or 12 month jewelry subscriptions and it also includes lots of other behind the scenes content and videos. This makes a great gift for all the jewelry lovers on your list. 
8. Ice Dye Kit
These awesome kits are great gifts for kids of all ages.  You'll learn the ICE DYE method of fabric dyeing which is so fun and colorful. You can also get this kit for yourself and use it to create bright, beautiful gifts.
We can use all the positive, happy vibes we can get right now, and this rainbow hoodie makes anyone who wears it, feel all warm and fuzzy. It's super cozy and as a great fit. This is a women's fit and tapers in slightly at the waist, but runs true to size. 
Last but not least, we launched our E-Gift certificates! In the past we could only do in-store certificates, but now these new certificates work both in store AND online. So if you're not sure what to choose, this makes the perfect gift.