CONSULTING SERVICES
Linesheet Optimization $275
Have you created a linesheet but you're not sure if it's ready to send out to buyers? Then this service is perfect for you. This workshop includes a one hour call and additional hour of editing, I'll go over your linesheet and make edits to ensure that you've got all of the right information. I'll also make sure it's formatted in a way that's easy to navigate and will visually attract buyers.
Product Editing & Collection Curation $275
Make sure you're showing a cohesive selection of your products and find out how best to group items for the most impactful presentation. Have you been selling your products retail, but you're not sure what to include in your wholesale offerings? Or maybe you just need help deciding how to group your collection in a way that makes it easy for potential buyers to understand and place orders? Then this two hour workshop is for you. Includes two one hour calls where we will curate together. You'll finish with edited product offerings and a blueprint for grouping collections.
Pricing, Setting Minimums, & Terms $450
Calculating the right wholesale pricing, and setting suggested retail prices are both key components for a successful wholesale business. But it doesn't end there. You should also have wholesale minimums, reorder minimums, delivery times, and terms before you start taking orders. Terms include things like setting guidelines for payment, shipping, returns, exchanges, etc. Sound overwhelming? Don't worry, when we're done with this 3 hour crash course, you'll be ready to sell!
Automating Your Business On A Budget $225
Do you feel overwhelmed and stuck? Or like sometimes there aren't enough hours in the day to get it all done. It's time to start automating some parts of your business. That means getting help and coming up with some processes to optimize how your business operates.This session includes an hour long call where I'll evaluate your business and learn where you could use automation . After our call, you'll receive a list of affordable resources and a plan for freeing up some of your time. The goal of this session is to create "space" so you're able to focus on the areas of your business that need your attention the most. *After booking, you'll be contacted within 48 hours to schedule. Defining Alternative Revenue Streams $175Feel like there are more ways for your business to generate money, but you're not sure where to start. Let me help get things moving with some unique strategies and alternative revenue streams that are specific to your business. This session is an hour long targeted brainstorm call. Afterwards you'll receive a list of resources and leads tailored to your industry needs.
Business Coaching $750
Need help with preparing to sell wholesale? Production planning or scaling up? Or maybe just getting in front of the right customers? Let's work together to get over any hurdles and level up your business. This package is for one month. You'll get four one hour calls, plus 60 minutes of office hours that you can reach me anytime for questions or support. Business coaching is perfect for anyone who needs support and expertise while working towards achieving specific goals in their business.
Introductory "Power" Hour $99
Let's get to know each other! The power hour is only for first time clients and it's offered at $50 off of my regular hourly consulting rate. It's perfect for anyone who's interested in coaching or other services but wants to "test the waters" first. The power hour is all about finding solutions, answering questions, and figuring out how to move your business forward.
Book Service Now
SPEAKING
I love speaking to creative entrepreneurs! I've hosted workshops, moderated panels, and have spoken at maker, creative, and blogger conferences. Click below to hear some of my latest podcasts interviews.
Talk topics include:
Reinventing & Refreshing Your Business
Alternative Revenue Streams
Collaboration 101
Life Hacks for Creatives
Quitting Your Day Job
Wholesale 101 & Wholesale 102
Get in touch
About me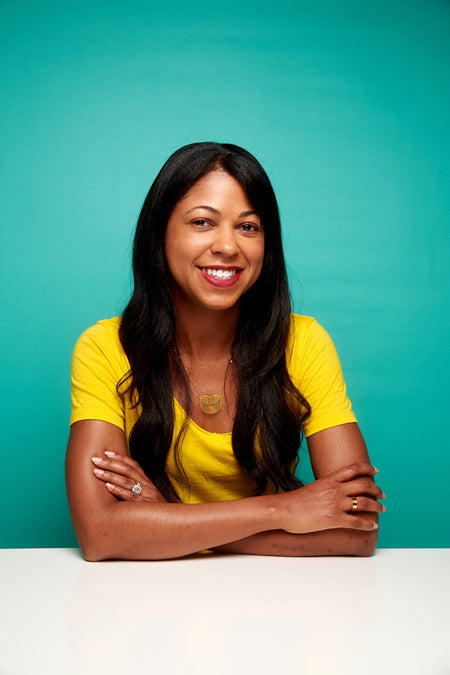 I'm a self taught jewelry designer from Chattanooga Tennessee, who left my corporate job at a Fortune 500 insurance company in Atlanta to pursue my own jewelry business. That was in 2005, and I didn't know the first thing about selling to retailers, or any other aspects of the business. I started out selling pieces to my co-workers from the upper file cubby of my cubicle during lunch hour.
Over the years I worked hard to learn everything I could, from anyone who was willing to share some pearls of wisdom. That knowledge, combined with experience, and a lot of scrappiness...led a wholesale jewelry business that sells to over 800 retailers, and a boutique that's celebrating it's 12th year in business. I started consulting an speaking after I wrote Adventures in Wholesale, a book about navigating the world of wholesale as a product based business. As a retailer, wholesaler, and (self diagnosed) serial entrepreneur... I love small businesses! So I want to share my knowledge, experience, and resources to help make the journey of growing your business as smooth as possible and avoid some costly wrong turns along the way. I'm passionate about independent designers succeeding in the marketplace because I'm one too!
I'm here to help you launch, grow, and refine your product based brand so you can stand out in the marketplace and attract the right customers. I have over 25 years of combined in both the wholesale and retail industries. I've been the owner of Frolick Jewelry for over 13 years and a retailer at my San Francisco shop, Covet, for 12 years. I believe the knowledge I've learned from both sides of the industry gives me a unique perspective that is invaluable in growing a successful wholesale brand.