Jewelry Services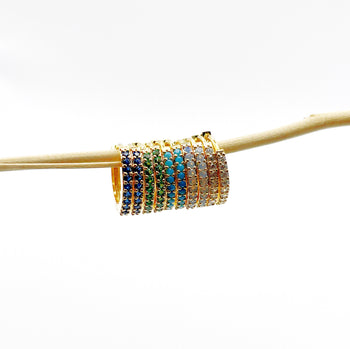 custom
Let us create original jewelry
designs just for you.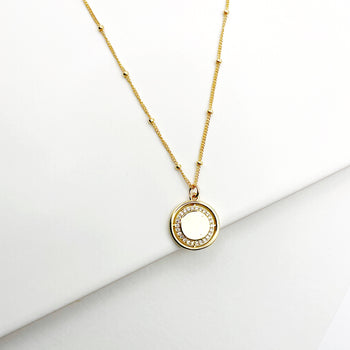 wholesale
Shop the latest collection
from our linesheet.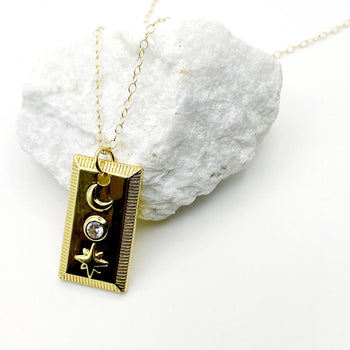 private label
Choose jewelry from our
specialty catalog and customize.
Private Label vs. Custom
Private label jewelry is produced by us at Frolick Jewelry. It's a collection of several hundred pieces that you can choose from to create your own collection that best fits best your customer. When you purchase these pieces they come with no branding, so you can package as you like and sell as your own collection.
The pieces are made to order, so we can also make small changes to customize them. Adjustments vary by piece, but include, length, metal finish, gemstone color, clasp type, and chain style. Private labeling is a great way to set your brand apart and increase revenue. It's common practice with many big retailers, but usually the minimums are huge. So at Frolick, we wanted to make this option more available to smaller brands with more accessible minimums. The advantages of private label include, a much lower start up cost and a faster turn around time for production. It also allows you to test pieces in smaller quantities and really dial in on what sells best.
Custom jewelry design is great for those brands wanting specific pieces made for them. This usually includes sourcing and casting of components to create the desired style. The minimums are larger and this option is more costly. Production also takes longer because of the custom fabrication required for some designs. However, the upside is that you'll get a design that is uniquely yours. We've created everything from logo charms for apparel, to complete collections for brand collaborations.
Both options have their advantages and disadvantages, so it's important to evaluate which one is best for your brand.
We're always here to help you choose. Drop us a line and we'll be in touch to schedule a call.
learn more
Let's Talk
We'd love to hear more about your project, so share a few details below and we'll be in touch shortly.
Private Label
(A $500 + investment)
Private label gives you the ability to mix and match on trend, seasonally relevant styles to create your perfect collection. Just pick your jewelry designs, then choose from the customization options, and we take care of the rest. We can also create jewelry cards, tags, or other packaging options.
This option is great for you if....
You already have a shop or a way to promote your product and yes, social media counts!
You're currently promoting other brands for a small commission, affiliate fee or percentage of sale.
You love the idea of getting your own product made but don't have the time or knowledge to get into every little detail.
You want to test product with your market fast and be able to react to their feedback.
You want support with filtering through all of the potential trends to find something that will register with your customer.
You are looking for a way to scale your business so that it generates income without you having to put in more effort for every dollar earned.
How It Works
Step 1
Order a product sample from our private label catalog.
Step 2
Select pieces for order and choose add-ons or customizations.
Step 3
Place order for minimum of $500 of private label jewelry.
Step 4
We get to work on creating your pieces. Usually a 2-4 week turn around.
Step 5
Send us your logo if you want jewelry cards or tags & we ship your order.
Custom Design
(A $2000 + investment)
We'll handle the process from start to finish. You can send us logos, inspiration boards, or sketches. If you don't have any idea what you want to do, we can help you create designs from scratch. Once you have a product road map, we get to work designing, sourcing materials, developing and producing your product. Also, this process can take a little longer that our other options. If we're casting custom pendants for your project, it can add 4-6 weeks to the lead time.
This option is great for you if...
You have a specific idea of the product that you want to create and you can't find what you're looking for in the Private Label Collection.
You are clear on your ideal customer and who you will be marketing your jewelry line to.
You love the idea of getting your own product made but don't have the time or knowledge to get into every little detail.
You are confident in you ability to sell at least 25 pieces of each style. You have an idea of a new type of product but you don't know how to bring it to life in a way that your customer will love.
You see an opportunity to start selling under your own brand and increase the percentage of sales that ends up back in your pocket.
You want support from a team that can take you through the complete process of creating your jewelry line all the way to a completed product that's ready to ship.
How It Works
Step 1
Submit some information about your idea and we'll set up a call.
Step 2
We'll ask for more details about your project, then create a design brief.
Step 3
A project specific plan and quote will be created and signed off on.
Step 4
We get to work sourcing, designing, and developing your pieces.
Step 5
Once you approve the styles, we go into production and ship your order.
Wholesale
(A $150 + investment)
Our wholesale collection is a curated selection of our best sellers. We test products in our retail shop and refine each collection to help insure the best possible sell through with your customers. The overall opening order minimum is just $150 and there is no per piece minimum, so you can assort the pieces however you like. You are welcome to request a linesheet, however the easiest way to order with us is through the wholesale marketplace, FAIRE. It offers easy ordering, net 60 payment terms, and free returns on opening orders. So your first order with us is totally RISK FREE.
This option is great for you if...
You want a quick ready to ship collection for your retail location or online boutique.
You are clear on your ideal customer and who you will be marketing your jewelry line to, and our collection fits your aesthetic.
You want low minimums and like to bring in new styles of product often.
You recently launched online and want to be able to order more product as needed and not have to hold alot of inventory.
You want product shots of all the pieces, so you can quickly & easily promote and sell them .
How It Works
Step 1
Use the widget above to sign up or sign into your Faire Account.
Step 2
Place your order and choose immediate shipment or a future date of your choice.
Step 3
We'll let you know when your order has shipped.
Step 4
Need images of the jewelry you ordered? Simply click to download from Faire.
Step 5
Reorder as needed. We're also always introducing new styles.