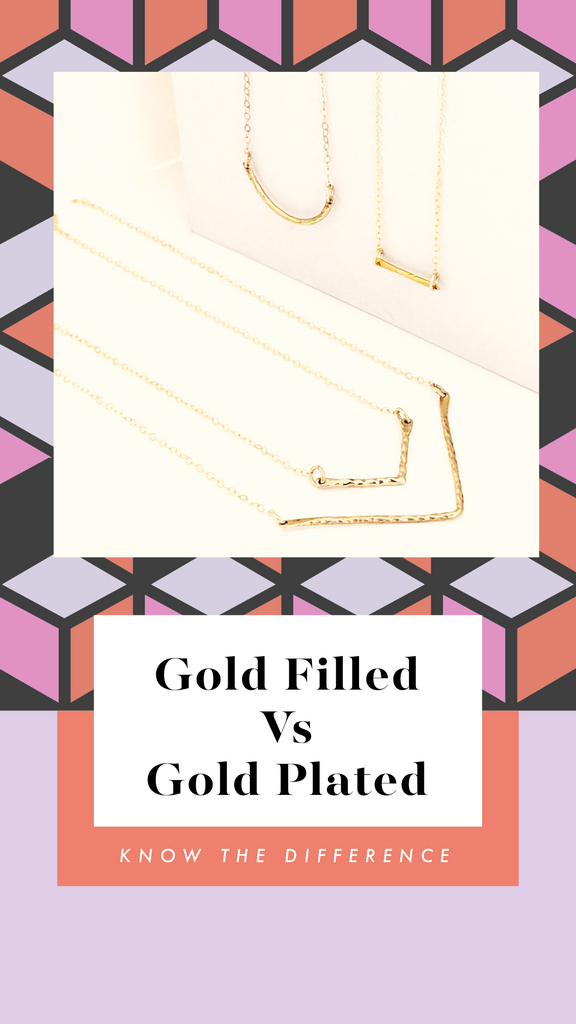 What's the difference between Gold-Filled vs Plated?
This is the #1 most asked jewelry question I receive, so I though I'd share some insight :)  The jewelry at Covet is made from gold filled chain, clasps, earwires, and etc. The reason is because it lasts much longer than most plated jewelry and is a wallet friendly alternative to solid 14kt gold.  
What is Gold-Filled? Gold-filled is a United States layered gold product that is gaining popularity throughout the Americas, Asia and Europe. It is a quality material that is common in all types of jewelry. The product is easy to care for and will usually maintain its golden shine for a lifetime.
Gold-filled is constructed in two or three layers. The core metal is jewelers' brass. A gold alloy is then bonded to one or both surfaces of the brass core with heat and pressure. Unlike plated (aka electroplated or "dipped") metals, Gold-filled is legally required to contain 5% or 1/20 gold by weight. This 5% is then described by the karatage of the gold alloy. Our Gold-filled items are 14kt gold-filled. 14k Gold-filled products are identified as 14/20 Gold-filled; alternatively, 14kt Gold-Filled is also acceptable. 
So, What is Gold Plate? – Gold plating is a miniscule layer of solid gold applied to a brass base. The plating does not compose any measurable proportion of the products total weight. It is estimated to be 0.05% or less of the metal product. Gold plating will generally wear off rather quickly and expose the brass base product. It does not stand up to heat, water or wear over time.
(Bonus note: Gold Plate is not to be confused with "Vermeil" (pronounced vehr-MAY), which is a thicker level of gold plating over sterling silver rather than a base metal. To truly qualify as Vermeil, the plating should be a minimum of 2.5 microns thick and always over sterling silver.) 
The Difference Between Gold-Filled and Solid Gold
Solid gold is an alloy that is described with the karatage of pure gold. Pure gold is 24kt. However, it is much too soft to hold its shape or wear well. Therefore, it is mixed or alloyed with other metals to make it harder and easier to work with. Karatage refers to the alloy's purity. For example, 8 karat gold is 8/24 pure gold or 33.3% pure. Gold-filled is not the same as solid gold. It is a layered alternative product. The gold-filled karatage only refers to the gold layers that compose 5% of the product on the surface.
Care and Cleaning 
Gold-filled does not de-laminate or peel like plated or "dipped" products. Nor does it tarnish as readily as silver. Many owners find that they never have to clean gold-filled items at all. However, from time to time your jewelry may become dirty from everyday wear. To clean gold-filled it is best to lightly polish with a cleaning cloth or use a liquid cleaner that's safe for gold filled.