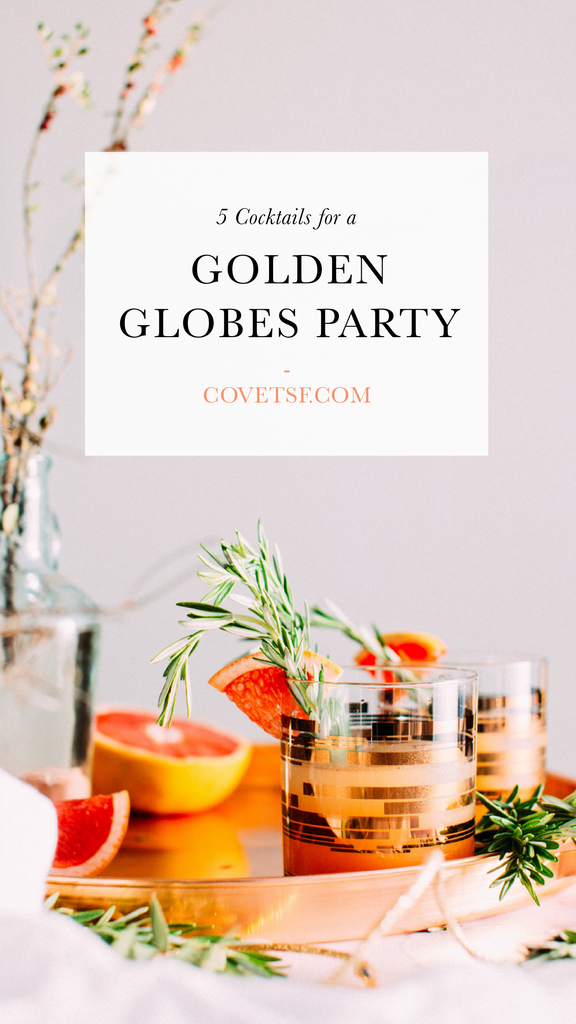 With the Golden Globes just around the corner, I wanted to share some fun nominee themed cocktails to celebrate in style. Whether you're headed to a viewing party or just snuggling in at home to watch, these cocktails will have everyone raining their glasses. 
A Star Is Born- Gaga Highball
This is a twist on a classic highball that's perfect for toasting Lady Gaga's Golden Globe nom. 
3/4 oz gin
3/4 oz brandy
3/4 oz dry vermouth
5 oz ginger ale
Pour all ingredients into a chilled highball glass and garnish with a lemon twist.
The Favourite- Queen Anne Cocktail
This delicate floral cocktail will have you feeling positively royal. 
2 oz vodka
1/2 oz lemon juice
2 teaspoons maraschino liquor
1/4 oz Creme De Violette
Shake all of these ingredients with ice and pour into a chilled glass. Garnish with a lemon twist and a maraschino cherry. 
Crazy Rich Asians- 24kt Singapore Sling
Transport your tastebuds to Singapore with a little twist on a classic drink. 
2 shots pineapple
1 shot gin
Squeeze of lime
Shake these ingredients together and strain into an ice filled glass. Then add a splash of seltzer and garish with a lime slice. To make this drink extra flashy, we like to rim the glass in gold sugar. 
Mary Poppins- Spoonful of Sugar Shot
Keep things sweet with this simple shot made of frosting and vodka (sounds weird, but tastes delicious)
1 cup of frosting ( vanilla or chocolate depending on your preference )
2-4 oz of vodka ( depending on how strong you want them )
This recipe will make 4-6 shots and to make the mixing easier, it's a good idea to heat the frosting a bit to prevent clumps. Finish your shots by dipping the rims in honey and then dipping them in sprinkles. 
Black Panther- Wakanda Cocktail
This purple cocktail is inspired by the heart shaped herb in the movie
1 oz pineapple rum
1 oz coconut rum
1 oz lavender syrup
1/2 oz currant syrup
Combine all ingredients and strain into a glass over ice. Garnish with a pink edible flower.