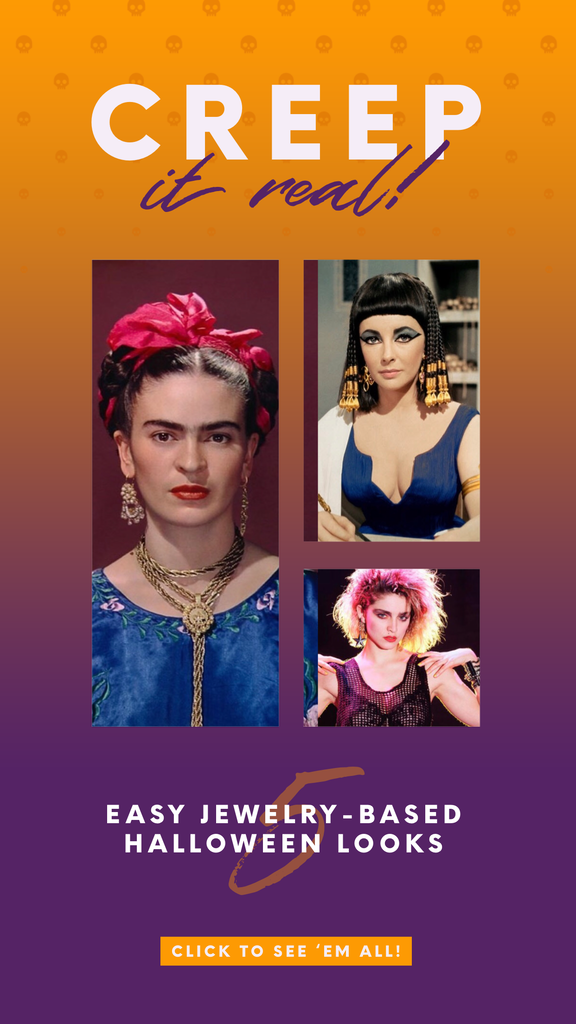 Looking for a lovely last minute costume? We've got easy ideas that you can pull off with some basics that you probably already have in your closet, paired and some statement accessories. 
Audrey Hepburn- Grab some black jeans and a turtleneck. Whip your hair up into a french roll, and add a simple stand of pearls around your neck... and voila!
Frida Kahlo- This is one of my personal favorites. I've actually done this costume before :) Grab the brightest, most flowy and femine dress in your closet. Anything with bold colors, flowers, leaves, or any other fun pattern. Then simply braid your hair in the signature Frida braid halo . Lastly, grab your biggest boho earrings, and layer several beaded necklaces together..the chunkier the better, and they don't have to match. Mismatched colors actually add to the look. 
Madonna- Pay homage to your favorite 80's Icon with this cute easy costume look. Grab your favorite leggings, a tank top, and an oversized sweatshirt. Simply pull that sweatshirt down over one shoulder, and presto..you're all set. Finish the look with some assorted bangles, fun hoops and a ribbon in your hair. Oh, and bonus points of you have some pop color high tops. 
Cleopatra- This look requires a bit more specifics. First off you'll need an inexpensive black bob wig, then a simple white sheath dress, and some flat strappy sandals. Next up, layer as many turquoise or other necklaces as you can find to create the look of a bib necklace. Add some hoop earrings and a dramatic winged eye to finish the look.