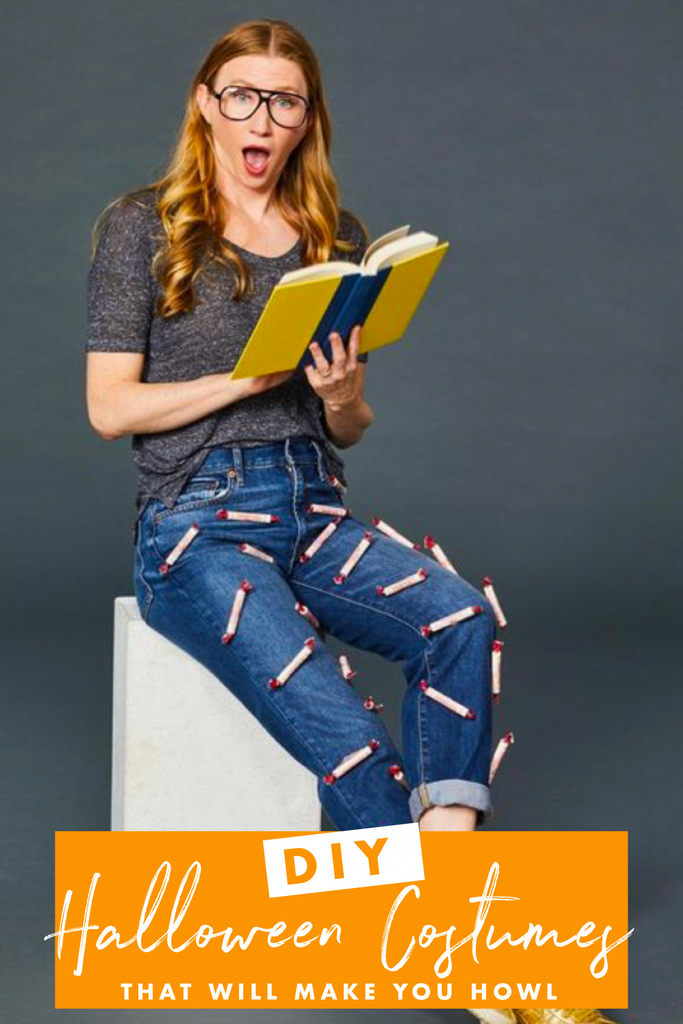 With Halloween just around the corner, you've probably started thinking about costumes. If you're anything like me, you wait until the last minute and then end up being stuck with whatever leftovers are available at the local party store. Not this year though, because I've curated some quick (and funny) costumes that you can create with things you probably already have around the house. 
1. This PINEAPPLE COSTUME is as cute as it is easy. Just find a yellow outfit in your closet ( even a yellow t-shirt and jeans will get the point across). Then use green construction paper to cut pointed leaf shapes and tape them in layers around an empty toilet paper tube. Then pin it on top of your head, and voila!
2. This is one of my absolute favorites! Just cut a paper sash and put on your some formal duds, to create this FORMAL APOLOGY costume. 
3. Might seem a little "batty", but you can make an adorable BAT COSTUME with an old black umbrella. Wear something long sleeved and all black. Next, cut two wide triangles out of the umbrella and use safety pins to affix the umbrella edges to the bottom of the arms. This will create the batwing effect shown above. Then use some black construction paper to cut some simple ear shapes and glue or tape them to a headband. 
4.  Not sure what you're looking at? This is A BLESSING IN DISGUISE COSTUME. It's hilarious and super easy. You can use any old plain t-shirt, then head to Michaels or Target for some iron on letters or vinyl letter stickers to spell blessing. You should also be able to find the "funny nose glasses" at any super store or maybe even a drug store. Next, just use any scrap of fabric to create a cape, and construction paper to make the ears. 
 5. This one is hilarious and an easy two person costume. One person just needs a green shirt and the other, a blank shirt that you can draw or iron on letters to spell "envy". Then together you're "GREEN WITH ENVY". 
6.  This 50 SHADES OF GREY COSTUME is easy and free. Just pop into your local hardware store and grab some of those paper paint swatches all in grey's. At home, lay them all face down and start taping the backs together into whatever pattern you choose. Lastly, put on a black, grey, or white t-shirt and then use fabric tape or double sided tape to affix the paint swatches to your shirt. 
7. This SMARTY PANTS COSTUME is another of my favorites and it's extra quick and easy. Just throw on your favorite pair of jeans and a plain t-shirt. Then wear your glasses ( or pick up a fashion pair ) and grab a bag of smarties to tape onto your pants. Use double sided tape to hold them on. Or if you're going to be moving around alot ( like at a party), I suggest glue gunning them on. They should peel right off at the end of the night, but use old jeans just in case. 
8.  This BOB ROSS & TREE COSTUME is a fun & easy idea for two people. Just get a curly red wig and beard. Then an old paint easel and brush for "Bob", and some construction paper to make leaves for the "tree". 
9.  This HOLY GUACAMOLE COSTUME is a cute one!  Just grab a green tee and print out some avocado halves on your printer. Then cut them out and tape them to the tee and grab a quick halo and wing set.  
10.  For an easy two person costume, this CARPOOL KAREO is perfect. You'll need a yellow poster board that you can decorate with silver tape, markers, and some white paint to create the "car", Then just grab an old boom box or cassette player and a microphone. If you don't have one, you can make a microphone by rolling up a tube of black paper and gluing a foam ball from your local craft store on top..then paint the ball grey.