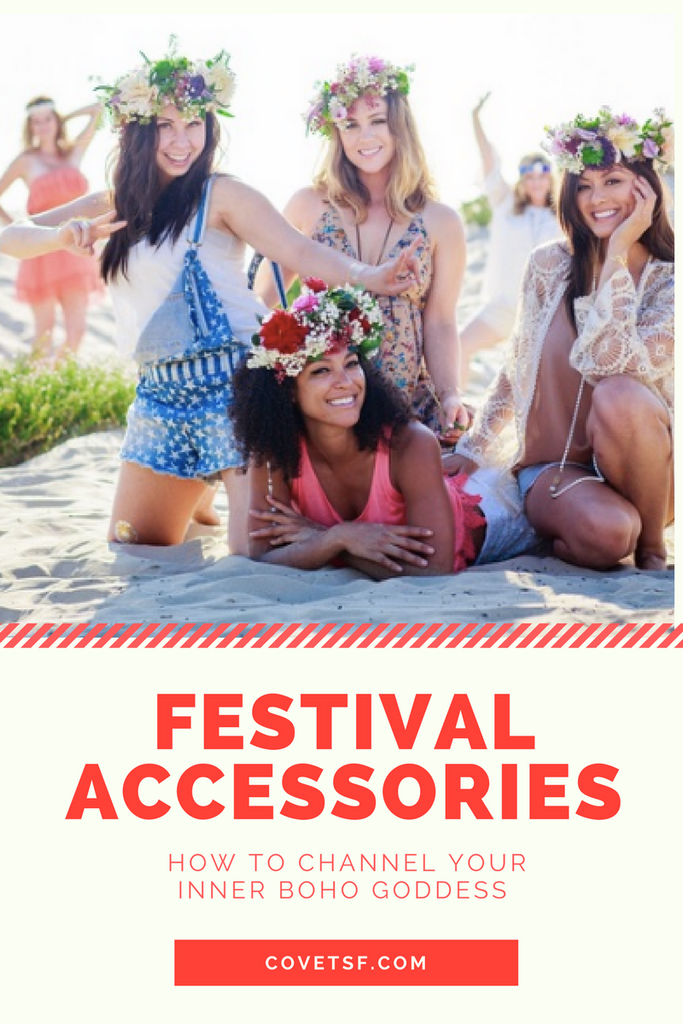 We love festivals and the flowy, feminine styles that come along with it. Since Coachella starts this weekend, I though it was the perfect time to share some great accessories, and ways to pull them off and look stylish at any age.  
1.  Chokers
There's a way to wear this trend without feeling like you're back in 1985.... Velvet ribbons, lace, and leather strands are definitely trending, but can be a really bold look that might not suit every age. 
We prefer to opt for a soft and feminine look like our Austin Choker that can be layered for a chic, and stylish look that's still on trend. 
2. Flower Crowns
Yes, we've all seen them but if you're like me, you're not sure if you can pull it off. Trust me, you can!  I recently discovered dried flower crowns which last indefinitely ( huge bonus because crowns can be expensive), but more importantly they are a bit more delicate and not quite as large. Because of this I find them much more wearable.  
We're actually hosting a Coachella Flower Crown Workshop at the store next week and we'll be making a beautiful dried crown. If you're in the bay area, be sure to join us. 
3. Fringe
Not sure about you, but I have a love hate relationship with fringe. I think it's amazing when it's done just right, but it can look really gaudy when it's overdone.  Our friends over at ADA Collection have done fringe just right. We LOVE their which adds just the right amount of boho chic to a floaty dress or a cute pair of cut offs. 
4. Rings
Make sure your fingers look amazing while you have your waving hands in the air to your favorite band. Currently, the more rings the better.  Delicate stackers and fun statement rings can co-exist to create a chic and unique style all your own. Also, don't be afraid to mix metals. Check out our Narita Rings & Ebisu Rings to get you started. 
5. Sunglasses 
Last but not least, the "piece de resistance". The perfect sunglasses are a must to finish off your festival look. We love Komono glasses, an awesome Belgian brand coming soon to Covet. In the meantime, check out one of our fave styles "The Clement". We love it and not just because it's named the same a street in our shop hood :)